Colonic Interposition for Concomitant Corrosive Esophageal and Gastric Stricturing
Keywords:
case report, esophageal stricture, stricture, dysphagia, corrosive intake, esophagectomy, gastric obstruction
Abstract
IMPORTANCE The stomach, jejunum, and colon (right, left, or transverse) have all been proposed as potential conduits as a replacement of the esophagus after esophagectomy. We report a case of concomitant esophageal and gastric stricture in which a part of the colon was used for this purpose.
CASE PRESENTATION A 26-year-old female with a history of corrosive intake presented with progressive dysphagia. On barium swallow and endoscopy, concomitant esophageal and gastric stricture was diagnosed. Transhiatal esophagectomy followed by right colonic interposition was performed successfully with excellent post-op outcomes.
DISCUSSION Considering the technical complexity of interpositional procedures, the published rates of morbidity and mortality are highly variable. In experienced hands, construction of colon and jejunal conduits can be performed with good short-term and long-term results.
References
Boukerrouche A. Isoperistaltic left colic graft interposition via a retrosternal approach for esophageal reconstruction in patients with a caustic stricture: mortality, morbidity, and functional results. Surg Today 2014;44:827-33
Yasuda T, Shiozaki H. Esophageal reconstruction with colon tissue. Surg Today . 2011;41:745-53
DeMeester SR. Colonic Interposition for Benign Disease. Oper Tech Thorac Cardiovasc Surg 2006;11:232-49.
Strauss DC, Forshaw MJ, Tandon RC, et al. Surgical management of colonic redundancy following esophageal replacement. Dis Esophagus 2008;21:E1-5
Korst RJ, Sukumar M, Burt ME, et al. Atraumatic gastric transposition after transhiatal esophagectomy. Ann Thorac Surg 1997;64:867-9.
Saeki H, Morita M, Harada N, et al. Esophageal replacement by colon interposition with microvascular surgery for patients with thoracic esophageal cancer: the utility of superdrainage. Dis Esophagus 2013;26:50-6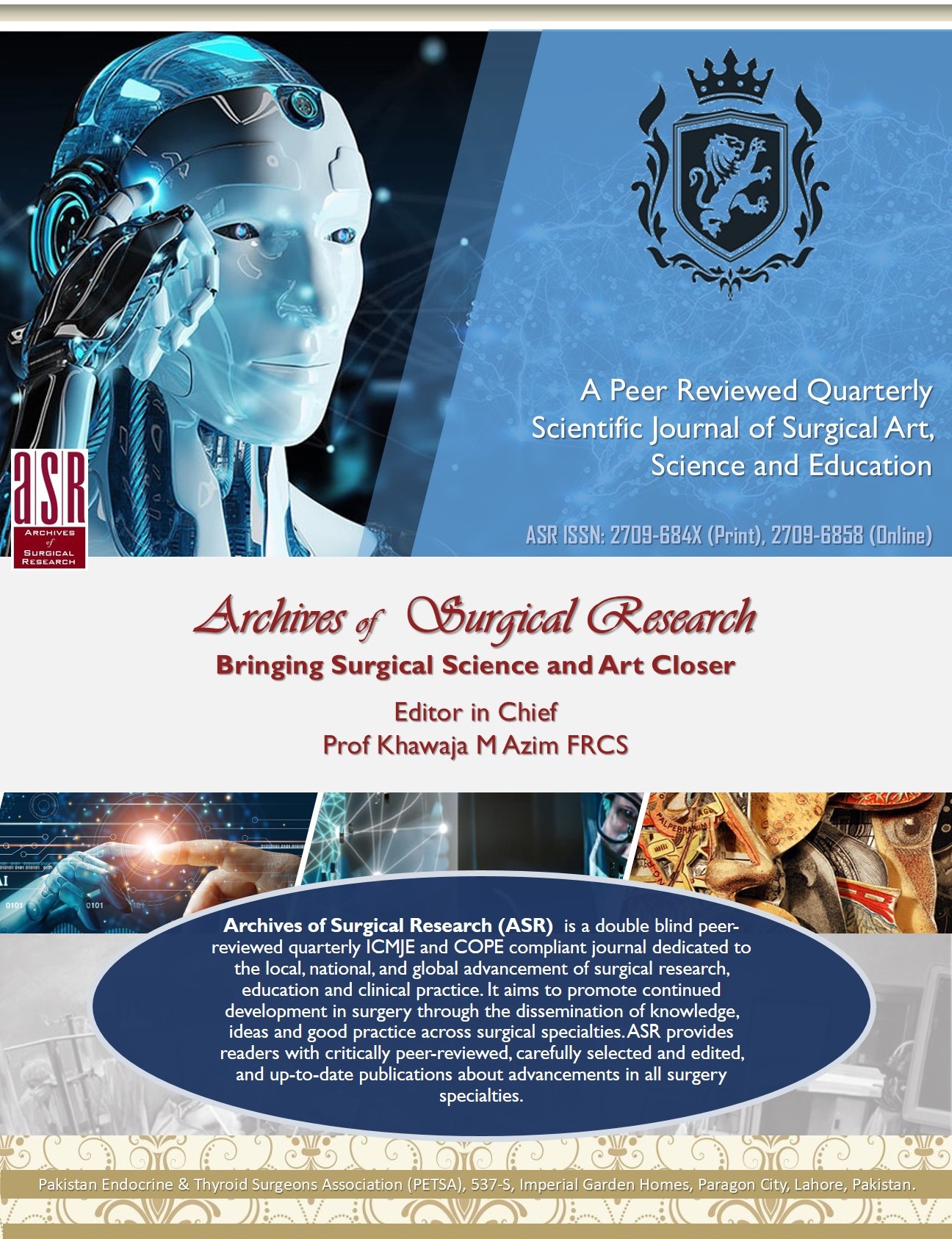 Downloads
How to Cite
Ahmed, J., Ashraf, M. H. ., & Waseem, T. (2021). Colonic Interposition for Concomitant Corrosive Esophageal and Gastric Stricturing . Archives of Surgical Research, 2(4), 53-55. https://doi.org/10.48111/2021.04.10
License
Copyright (c) 2021 Jahangeer Ahmed, Talat Waseem, Muhammad Hasham Ashraf, Khwaja Muhammad Azim
This work is licensed under a Creative Commons Attribution-NonCommercial-NoDerivatives 4.0 International License.