Nonfunctioning Pancreatic Neuroendocrine Tumour (NF-PNET) Presenting as Pancreatitis: A Rare Clinical Association
Keywords:
Nonfunctioning Pancreatic Neuroendocrine Tumour, Pancreatitis, Whipple procedure, pancreaticoduodenectomy
Abstract
IMPORTANCE Pancreatic neuroendocrine tumors are relatively rare tumors. They make up 2-5% of all pancreatic tumors. It is important to diagnose them in the early stage. They are found incidentally or if malignant with either epigastric pain or distant metastasis. Very rarely PNETs may present with pancreatitis. Only 30 such cases have been reported previously which did present with focal pancreatitis. Here we present such a rare case. 
CASE PRESENTATION A 51-year-old female presented with a history of recurrent epigastric pain for the past 4 years. On Ultrasound and CT scan, a 2x2cm well-defined mass in the head of the pancreas was observed. The findings were confirmed with a CT scan. A modified Whipple procedure was done and a histopathological report showed WHO grade – I neuroendocrine tumor with chromogramin positive tumor cells.
DISCUSSION & CONCLUSION The association between neuroendocrine tumors and pancreatitis is very rare hence neuroendocrine tumors should be considered as a differential diagnosis while dealing with such cases.
References
KLÖPPEL, G., PERREN, A. and HEITZ PU. The Gastroenteropancreatic Neuroendocrine Cell System and Its Tumors: The WHO Classification. Ann N Y Acad Sci. 2004;1014:13-27. doi:10.1196/annals.1294.002
Gong Y, Zhuang H, Zhou Z, et al. Pancreatic neuroendocrine tumors: A review of serum biomarkers, staging, and management. 2020;26(19):2305-2322. doi:10.3748/wjg.v26.i19.2305
Kazanjian KK, Reber HA, Hines OJ. Resection of Pancreatic Neuroendocrine Tumors: Results of 70 Cases. Arch Surg. 2006;141(8):765-770. doi:10.1001/archsurg.141.8.765
Jukemura J, Montagnini AL, Perini MV, De JLJ. CASE REPORT Acute Pancreatitis Associated with Neuroendocrine Tumor of the Pancreas. J Pancreas. 2006;7(1):56-61.
Tian Y, Qi X, Aljbri A, Xu K, Zhong H. Case Report: Pancreatic Neuroendocrine Tumor With Liver Metastasis and Portal Vein Thrombosis. Front Oncol. 2022;11. doi:10.3389/fonc.2021.809129
Tejedor Bravo M, Justo LM, Lasala JP, Moreira Vicente VF, Ruiz AC SML. Acute pancreatitis secondary to neuroendocrine pancreatic tumors: report of 3 cases and literature review. Pancreas. 2012;41(3):485-489. doi:10.1097/MPA.0b013e318227adef
Mao C, Howard JM. Pancreatitis associated with neuroendocrine (islet cell) tumors of the pancreas. Am J Surg. 1996;171(6):562-564. doi:10.1016/s0002-9610(96)00032-3
Sadr-Azodi O, Oskarsson V, Discacciati A, Videhult P, Askling J, Ekbom A. Pancreatic Cancer Following Acute Pancreatitis: A Population-based Matched Cohort Study. Off J Am Coll Gastroenterol | ACG. 2018;113(11). https://journals.lww.com/ajg/Fulltext/2018/11000/Pancreatic_Cancer_Following_Acute_Pancreatitis__A.26.aspx
Kim M, Park JM, Lee SJ, et al. Pancreatic Neuroendocrine Tumor Presenting as Acute Pancreatitis. Korean J Gastroenterol. 2018;71(2):98-102. doi:10.4166/KJG.2018.71.2.98
Ito T, Igarashi H, Jensen RT. Pancreatic neuroendocrine tumors: Clinical features, diagnosis and medical treatment: Advances. Best Pract Res Clin Gastroenterol. 2012;26(6):737-753. doi:https://doi.org/10.1016/j.bpg.2012.12.003
Patel D, Aburayyan K, Ghazaleh S, et al. S1383?Pancreatic Neuroendocrine Tumor Presenting With Melena: Case Report and Brief Literature Review. Off J Am Coll Gastroenterol | ACG. 2020;115. https://journals.lww.com/ajg/Fulltext/2020/10001/S1383_Pancreatic_Neuroendocrine_Tumor_Presenting.1384.aspx
Ro C, Chai W, Yu VE, Yu R. Pancreatic neuroendocrine tumors: biology, diagnosis, and treatment. Chin J Cancer. 2013;32(6):312-324. doi:10.5732/cjc.012.10295
Ong SL, Garcea G, Pollard CA, et al. A Fuller Understanding of Pancreatic Neuroendocrine Tumours Combined with Aggressive Management Improves Outcome. Pancreatology. 2009;9(5):583-600. doi:10.1159/000212085
Surlin V, Ramboiu S, Ghilusi M, Plesea I. Incidental intraoperative discovery of a pancreatic neuroendocrine tumor associated with chronic pancreatitis. Diagn Pathol. 2012;7:132. doi:10.1186/1746-1596-7-132
Falconi M, Bartsch DK, Eriksson B, et al. ENETS Consensus Guidelines for the Management of Patients with Digestive Neuroendocrine Neoplasms of the Digestive System: Well-Differentiated Pancreatic Non-Functioning Tumors. Neuroendocrinology. 2012;95(2):120-134. doi:10.1159/000335587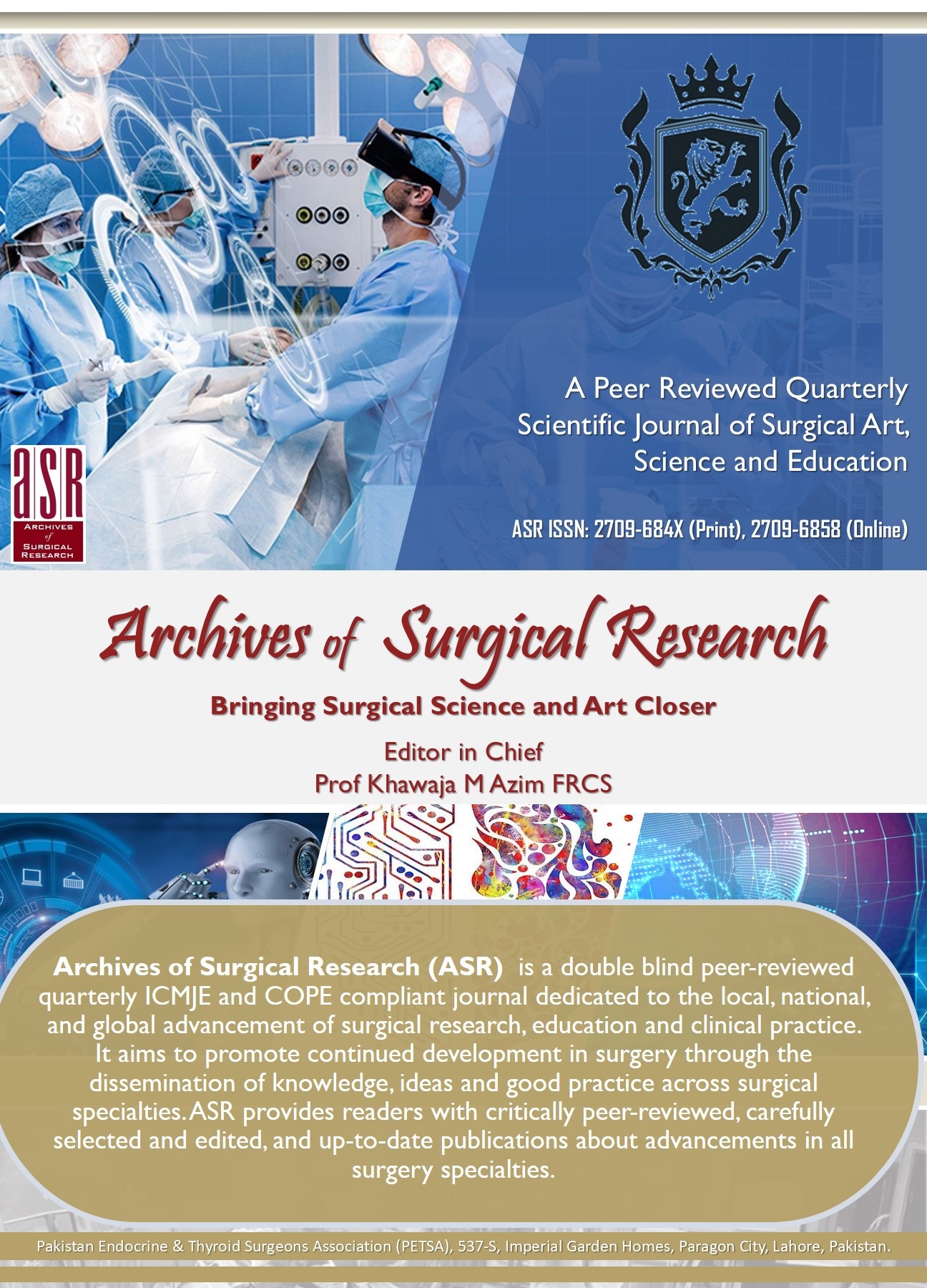 Downloads
License
Copyright (c) 2022 Haseeb Arif, Hamza Azhar , Talat Waseem
This work is licensed under a Creative Commons Attribution-NonCommercial-NoDerivatives 4.0 International License.
How to Cite
Nonfunctioning Pancreatic Neuroendocrine Tumour (NF-PNET) Presenting as Pancreatitis: A Rare Clinical Association. (2022).
Archives of Surgical Research
,
3
(2), 36-39.
https://doi.org/10.48111/2022.02.07